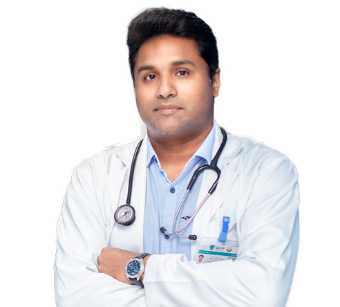 DR BIBIN MATHEWS BABU
Specialist
ENT
MBBS, MS
7+ years of experience
Doha (Qatar)
About DR BIBIN MATHEWS BABU
Dr Bibin Mathew Babu is an outstanding Specialist in the field of otolaryngology with more than 7 years of work and training experience in some of the best medical institutes. His areas of interest include ear surgeries, scar-less endoscopic sinus surgeries and head and neck surgeries. Aside from these, he is also proficient in the routine day-to-day care of patients with issues related to the ear, nose and throat. Dr Bibin Mathew Babu believes in ongoing education and has attended several hands-on workshops as well as national and international conferences and presented original clinical papers.
Excellence & Experience
Area of excellence
Ear surgeries
Endoscopic sinus surgeries
Head & Neck surgeries
Level of Experience
ENT Specialist – Dr Manoj's ENT Super-specialty Hospital & Research Centre (MESIARC), Calicut – 2011- 2013 Was in charge of dizziness clinic
Asst Professor ENT – Pondichery Institute of medical Sciences (PIMS) 2013 -2014
Asst Professor ENT – Pushpagiri Medical College & Hospital – 2014-2015
Awards & Academics
Academics Details
FAGE – Kasturba Medical College, Manipal - 2012
MS (ENT) – Rajah Muthiah Medical College, Tamil Nadu - 2011
MBBS – Kasturba Medical College, Manipal - 2008
Out Patient Timings
The outpatient timings at Badr Al Samaa Hospitals have been planned in such a way that your choice of doctor is available whenever you are free.
Sunday
8:30 AM - 12:00 PM
Doha - Qatar
5:00 PM - 9:30 PM
Doha - Qatar
Monday
8:30 PM - 12:00 PM
Doha - Qatar
5:00 PM - 9:30 PM
Doha - Qatar
Tuesday
8:30 AM - 12:00 PM
Doha - Qatar
5:00 PM - 9:30 PM
Doha - Qatar
Wednesday
8:30 AM - 12:00 PM
Doha - Qatar
5:00 PM - 9:30 PM
Doha - Qatar
Thursday
8:30 AM - 12:00 PM
Doha - Qatar
5:00 PM - 9:30 PM
Doha - Qatar
Friday
Saturday
8:30 AM - 12:00 PM
Doha - Qatar
5:00 PM - 9:30 PM
Doha - Qatar