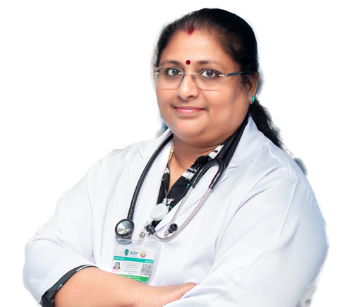 DR GEETHA KUMARI G R
Specialist
Radiology
DMRD, DNB
25 years of experience
Doha (Qatar)
About DR GEETHA KUMARI G R
Dr Geetha Kumari G. R. is a highly experienced Specialist in Radiology with over 25 years of rich expertise gained during her work and training stints in some of the best hospitals. She is an expert in conventional radiography, fluoroscopy, ultrasound, CT and MRI. She is highly skilled in Ultrasonography (including general, abdominal and pelvic ultrasound, Obstetric ultrasound) and Colour Doppler and USG- guided interventions. She is also an expert in advanced biopsy techniques and performs 3D and 4D ultrasound- guided biopsies. She participates actively in clinical pathological meetings to get a holistic picture of the disease process beyond imaging.
Excellence & Experience
Area of excellence
USG Scanning
Breast imaging
Radiologically-guided procedures
MRI in Screening in preoperative staging
Advanced biopsy techniques
Level of Experience
X-ray, CT and MRI imaging
Having 25 years of work experience, both in India and abroad
Worked in Regional Cancer Centre (RCC), Trivandrum
Worked in Sree Gokulam Medical College & Research Foundation, Trivandrum
Awards & Academics
Academics Details
MBBS - Govt medical College, Trivandrum, 1988
DMRD – Govt Medical College Trivandrum - 1994
DNB – Govt Medical College, Trivandrum - 1996
Out Patient Timings
The outpatient timings at Badr Al Samaa Hospitals have been planned in such a way that your choice of doctor is available whenever you are free.
Sunday
8:30 AM - 12:00 PM
Doha - Qatar
5:00 PM - 9:30 PM
Doha - Qatar
Monday
8:30 AM - 12:00 PM
Doha - Qatar
5:00 PM - 9:30 PM
Doha - Qatar
Tuesday
8:30 AM - 12:00 PM
Doha - Qatar
5:00 PM - 9:30 PM
Doha - Qatar
Wednesday
8:30 AM - 12:00 PM
Doha - Qatar
5:00 PM - 9:30 PM
Doha - Qatar
Thursday
8:30 AM - 12:00 PM
Doha - Qatar
5:00 PM - 9:30 PM
Doha - Qatar
Friday
Saturday
8:30 AM - 12:00 PM
Doha - Qatar
5:00 PM - 9:30 PM
Doha - Qatar