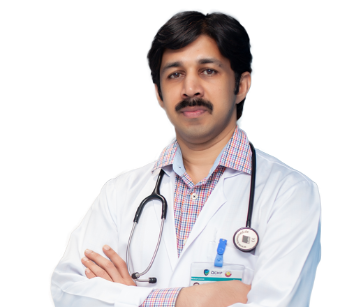 DR JOSEPH DEVASIA
Specialist
Orthopaedics
MBBS, MS
17 years of experience
Doha (Qatar)
About DR JOSEPH DEVASIA
Dr Joseph Devasia is a renowned Specialist Orthopaedic Surgeon with 17 years of exceptional experience in treating all forms of orthopaedic problems. He is highly skilled in conservative management as well as surgical interventions for deformity corrections, traumas as well as degenerative issues. He is an expert in arthroplasties and arthroscopies, revision arthroscopic procedures, fracture fixations, multi-ligament surgeries, ACL and meniscal tears and emergency trauma management. He has performed numerous minimally invasive surgeries for sports injuries, trauma as well as in joint replacements. Dr Joseph Devasia believes in continuing education and regularly attends conferences to stay updated.
Excellence & Experience
Area of excellence
Management of common orthopaedic problems
Management of sports injuries
Deformity corrections
Emergency trauma care
Fracture fixations
Arthroplasties and Arthroscopies
Level of Experience
Worked in various hospitals in Kerala between 2002-2017 including 2 years in TD Medical College, Alappuzha
Awards & Academics
Academics Details
MS (Orthopaedics) – JIPMER, Pondicherry - 2002
MBBS - TD Govt medical College, Alappuzha - 1997
Out Patient Timings
The outpatient timings at Badr Al Samaa Hospitals have been planned in such a way that your choice of doctor is available whenever you are free.
Sunday
8:30 AM - 12:00 PM
Doha - Qatar
5:00 PM - 9:30 PM
Doha - Qatar
Monday
8:30 AM - 12:00 PM
Doha - Qatar
5:00 PM - 9:30 PM
Doha - Qatar
Tuesday
8:30 AM - 12:00 PM
Doha - Qatar
5:00 PM - 9:30 PM
Doha - Qatar
Wednesday
8:30 AM - 12:00 PM
Doha - Qatar
5:00 PM - 9:30 PM
Doha - Qatar
Thursday
8:30 AM - 12:00 PM
Doha - Qatar
5:00 PM - 9:30 PM
Doha - Qatar
Friday
Saturday
8:30 AM - 12:00 PM
Doha - Qatar
5:00 PM - 9:30 PM
Doha - Qatar