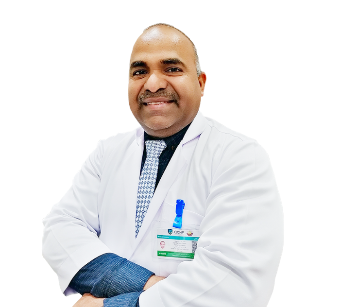 DR Kantharaju KH
Specialist
Pathology
MBBS, MD
18+ years of experience
Doha (Qatar)
About DR Kantharaju KH
Dr Kantharaju K H is a highly dedicated Specialist in Clinical Pathology, a branch of medicine that forms a cornerstone for clinical practice of modern medicine. His disciple and determination ensures that all the laboratory investigations are performed with the utmost precision. His sincerity towards his work plays a crucial role in ensuring that correct diagnoses are performed with the right treatments offered. The department performs routine and special laboratory investigations for Clinical Chemistry, Serology, Immunology, Clinical Pathology and Haematology investigation requests. Dr Kantharaju also makes sure that the strict guidelines of QCHP are followed for best outcomes.
Excellence & Experience
Area of excellence
Cancer Pathology
Bone marrow Pathology
Cytopathology
Microbiology
Immunology
Level of Experience
More than 18 years of experience in different fields of Pathology Practice
Consultant Pathologist - Caritas Cancer Hospital, Kottayam, Kerala -2003-2005
Consultant Pathologist - PVS Hospital, Cochin, India – 2006
Consultant Pathologist - KMCT Medical College (till 2016)
Specialist Pathologist – Badr Al Samaa Hospital – 2016 till date
Awards & Academics
Academics Details
DNB Pathology - National Board of Examinations, New Delhi, India - 2003
MD Pathology - JJM Medical College, Davangere, India - 2001
MBBS - AIMS, Bellur, Karnataka, India -1996
Out Patient Timings
The outpatient timings at Badr Al Samaa Hospitals have been planned in such a way that your choice of doctor is available whenever you are free.
Sunday
8:30 PM - 12:00 PM
Doha - Qatar
5:00 PM - 9:30 PM
Doha - Qatar
Monday
8:30 AM - 12:00 PM
Doha - Qatar
5:00 PM - 9:30 PM
Doha - Qatar
Tuesday
8:30 AM - 12:00 PM
Doha - Qatar
5:00 PM - 9:30 PM
Doha - Qatar
Wednesday
8:35 AM - 12:00 PM
Doha - Qatar
5:00 PM - 9:30 PM
Doha - Qatar
Thursday
8:30 AM - 12:00 PM
Doha - Qatar
5:00 PM - 9:30 PM
Doha - Qatar
Friday
Saturday
8:30 AM - 12:00 PM
Doha - Qatar
5:00 PM - 9:30 PM
Doha - Qatar